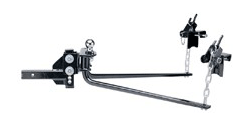 Round Bar Weight Distribution Hitch
• Heavy duty round bar style and Weight Distribution Hitches
• Heavy duty adjustable formed head
• 2" x 2" adjustable hitch bar
• Forged solid steel spring bars
• Hook up brackets
• Durable EVERGLOSS Powder Coat Finish resists rust & corrosion
• Not to be used with Surge Brake systems
Weight Distribution & Sway Control
What is weight distributing, and how does it work?

Weight distributing hitches apply leverage between the towing vehicle and trailer causing the TW to be carried by all axles of the tow vehicle and trailer. When TW is distributed in this way, trailers with greater TWs can be towed, resulting in a more level ride which reduces stress on the rear of the tow vehicle and provides greater steering and brake control.

What size weight distributing do I need?

Weight distributing is based on the amount of loaded tongue weight the trailer has. To purchase the correct size weight distributing hitch (WDH), you will need to first load the trailer as you would tow it down the road and then have the tongue weighed. You can weigh the trailer tongue by using a bathroom scale or taking it to your trailer dealer to have the tongue placed on a tongue scale.

What type of sway control can I use?

There are two popular methods of sway control. The older, more common form of sway control is a friction device called Friction Sway Control. A more contemporary approach is the Reese developed device controlled by cam action. Known as Dual Cam Sway Control, it is an innovative and effective technique to help control trailer sway before it starts.
What kind of maintenance do I need to do to the weight distributing hitchWDH and sway controls?

Lubricate the ballmount sockets and spring bar trunnions to prevent rapid wear. When hooking-up, place one drop of oil on the top and a second drop on forward side of upper trunnion. Place a third drop on the rear side of lower trunnion before inserting trunnion into ballmount. Use a heavy oil such as "REESE ON THE BALL". Don't forget to lubricate the hitch ball with one or two drops also. Trunnion should be lubricated each towing day. It is not necessary to unhook the spring bars however, as there are two oil holes in the ballmount top plate for upper trunnion lubrication. Lubricate lower trunnions with one drop at contact point between trunnion and lower socket. Excess oil, dirt, and grit should be wiped out whenever trailer is uncoupled.

Can I grease the Dual Cam Sway Control (DCSC)?

Do not grease the cam and cam arms. The Dual Cam was designed to use metal-to-metal friction. Heavy greasing of the cam and cam arm surfaces with affect performance. If noise is offensive, a very light coating of lubricant, such as Vaseline, may be used. Tongue weights over 1,200 lbs. may require a light coating of grease to reduce friction and prevent excessive wear. The Dual Cam Sway Control DCSC is not to be lubricated on the cam arms when the tongue weight is under 1,200 lbs. Instead you will want to apply a thin coat of a petroleum jelly, such as Vaseline. This will act as a poor lubricant, but works well to dampen the sound. For trailers with over 1,200 lbs. tongue weight you should apply a couple of drops of an 80/90 gear lube to the cam arm to prevent excessive wear caused by the increased tongue weight.